Who is online?
In total there are
9
users online :: 0 Registered, 0 Hidden and 9 Guests :: 2 Bots
None
Most users ever online was
88
on Tue Feb 05, 2019 4:25 pm
Top posting users this month

Especially in non-fog games, one of the most important parts of the combat phase is the concept of "breaking through" an opponents lines. Usually, this means clearing meatshields in front to attack more vulnerable units behind. This is why the idea of finishing off an opponents units, especially infantry, is important instead of just crippling it, because only when they are killed can you enter the square to attack nearby units, and more importantly go through the square to hit units behind it. On the flip side, establishing blockades, cannon fodder lines which your opponent cannot easily penetrate, backed with sufficient units behind to give a punishing counterstrike is just as important to prevent such devastating results. There are 2 forms of blockades, one which completely prevents a breakthrough, usually by having some heavier armour in front that cannot be easily killed. This however, can be very difficult to achieve. The most common method of blockade merely aims to blunt the force of the breakthrough by forcing the opposition to spend much of its effort clearing meatshields, leaving much less units to do damage. This form of blockade is aided by a good counterattacking force behind, and often with indirects ready to punish the units that penetrate the lines (or even also those helping clear the lines). Both forms of blockades are aided by terrain that create chokepoints limiting the areas from which opponent forces can attack your units, and also limiting the reach of further units.
This position which I've been struggling with is a classic example of the first type of blockade, a "pure" one. Despite the seeming nearness of the AA, and BCptr, there simply is no way to get a strike on them. The 9HP tank can be hit meaningfully only once remarkably, and even that limited attack is completely blunted by his CO and impending SCOP. Note how the terrain and the awkward positions of my Cptr and 5HP AA help him significantly. I'd go so far as to say this is a perfect example of how to blockade an opposition force.
To be honest I'm not sure why I put these comments up (I'm not asking for help on the blockade, I've accepted its unbreakable and I'll be moving shortly), except that the "puzzle" often posed by setting up and breaking blockades have always interested me, as these are often the turning points of the game. Does anyone have any other interesting situations similar to this to share, or thoughts?

InvincibleXI

Mech




Posts : 73
Reputation : 12

---

Join date

: 2015-02-07



I had a similar game like this. I was Max vs Sensei, so my opponent had plenty of infantry and air units all over the board. My forces were on the low side, but I somehow felt that I could capture his airport to provide enough air support to win the game. I spent 3 days analyzing different scenarios and possible solutions. I found one. In that rush I managed to take out 2 of his copters, block off his AA with meatshields protecting my copters and fighter, safely capture the airport on the following turn without interruptions (this was the hardest part to figure out), take out his AA with tanks, and then clear the field filled with infantry and mech.

Also, it was excellent timing on your part for sending additional units south, of which overwhelmed his forces at a crucial moment. He went on the defensive at a chokepoint without indirect support. There you seized an opportunity and punished him for leaving his south end weaker than the top. In the case of Andy, he happens to specialize in making better walls with his SCOP, as a full HP tank takes 2 hits compared to the usual 1-hit on 4-6 HP tanks. I am not sure why MYM used COP, as it had negligible impact compared to your SCOP. The chokey mountains and woods for tanks to camp on pretty much essentially removes and hinders the ideal 2-hit KOs that are common in the typical plains battle. Good game nonetheless. MYM gave me a tough run as VB in our league game as Max. Due to poor planning on my part in creating a blockade for the HQ capture, I am pretty confident that I only won out on pure luck. His 2 HP copter should have OHKO'd my 2 HP copter, but it didn't.

Kamuscha

Mech




Posts : 22
Reputation : 12

---

Join date

: 2015-01-31


Location

: Rohirrim



To be frank I don't think either of us played very well, I had a huge edge from the capture phase, but so many bad combat decisions (moving my BCptr into range of his AA because I forgot his Cptr and tank could take out my tank shield ranks as probably the worst but there are many terrible ones) completely blew it and left the situation critical. His COP wasn't a bad move I think, since I had to hold back my SCOP for a while after that, it let him recharge his bar. When I ultimately used my SCOP, he rode it and now his bar is almost filled while mine is near empty. So I thought it was a decent choice to push me back. At the situation displayed on the board, I am getting overrun in the north and somehow am getting held in the south, so I would really have liked to breakthrough. At first glance it seemed possible to take out his tank on the city with two hits, one from my BCptr and the other from the tank. Unfortunately, his perfect placement of infantry shields prevents this. Note that the infantry on the mountain can only be taken out with 2 hits, requiring the BCptr to move away or hit it, and preventing the Cptr going there to hit his tank. Elsewhere the same mechanism works for the infantry next to my 5HP AA, it can be hit from 3 squares, but 1 is occupied by the AA, and indeed would be needed to KO the tank if that was on (incidentally the only non Cptr unit that can go to the far forest to hit the infantry, except of course it can't if I use its square to hit the infantry- its route there is blocked by this infantry). 1 of the other 2 squares happens to occupy a square needed to hit another protector of the tank a second time. So, completely impossible somehow, and thus I have to retreat a bit and prepare for his onslaught.

The key about Andy is that he means you have to go for KOs when the COPs are near. Crippling units don't help much. That increases the pressure on the breakthrough since you need to kill your target units not just wound them, and of course that any crippled units you leave on your way through can respawn to devastate you.

With regards to the game with Max v Sesnei you mentioned, Max obviously has an edge in creating breakthroughs, while Sensei can create irritating blockades. Spending days analysing scenarios and options on this happens quite a bit to me, there are just so many variations. Sounds like a really complex and brilliant plan you pulled off. Often many blockades and breakthroughs depend somewhat on luck, as you mention in the later game. I wonder if this one required any too, or was it guaranteed?

InvincibleXI

Mech




Posts : 73
Reputation : 12

---

Join date

: 2015-02-07



I agree with you, setting solid defenses and planning breakthroughs is the most interesting aspect of the game for me. I have begun rethinking if MD tanks are more viable builds on some maps because of their sheer defensive potency... I recently had a fascinating game against Tyrantboy on "Shadows chase you endlessly..." that involved some really interesting defensive positions wth MD tanks, stealths, neo tanks... Definitely not your average unit spread that you have to attack and defend with.

As for your game, your real issue is lack of infantry. Having to waste vehicles tearing down his wall is a big damper on your ability to attack. And meanwhile he is able to punish you by capturing properties and such. I think many people don't properly value infantry count in all honesty (this was the main reason I beat Tyrantboy in the aforementioned game - I even went so far as to sacrifice a tank and AA to take out a couple of his key capturing infantries!).

WalkerBoh

AWBW Map Committee




Posts : 328
Reputation : 108

---

Join date

: 2014-01-10



I agree, that's a constant problem for me, which I think often boils down to overzealousness in going for early cities at the cost of my infantry. It gives me a funding boost, but often I find that the lack of infantry later becomes a real pain. So my play style will likely have to adapt in future.

Md Tanks are interesting defensive resources, they obviously stop tanks in their tracks. BCptrs can beat them in a cost effective battle, but too slowly to actually work if the Md Tanks are supported by AAs. Unfortunately their mobility is limiting, and artillery do well against them, so they aren't very useful in attack. The other main problem about Md Tanks in league games is their cost- normally building a Md tank on one front means not being able to build a tank on the other. So there are specific cases when the Md Tank would be useful (more often than the Neotank) but IMO its often only when you desperately need to shore up defenses on one crumbling front.

InvincibleXI

Mech




Posts : 73
Reputation : 12

---

Join date

: 2015-02-07



Yeah what you're deacribing with regards to MD tanks is the commonly agreed meta. But I wonder if an earlier Md tank keeps a front from crumbling in the first place? Obviously still situational since it has to be a front where you don't care much about mobility and have a short supply time from the base, but I dunno. Seems worth trying out a couple times. A lot of maps also have enough funding to afford an Md plus 2 inf so it just hits you on vehicle count a little. But maybe the trade off is worth it if it saves you multiple vehicles by reinforcing your defense.

WalkerBoh

AWBW Map Committee




Posts : 328
Reputation : 108

---

Join date

: 2014-01-10



In that case, having an early MD most certainly helped me ward off a potential 1-2 city loss to Mori in our test game on Gnarly.

http://awbw.amarriner.com/game.php?games_id=223092

I believe it depends on the situation that justifies having a MD on the field. It is often more than enough to prevent opposing captures by inf+tanks, of which leads to potential 1HKOs on them later in the midgame. While it hurts me in terms of unit count (tank+tank or tank+artillery), I would rather have the higher defensive, offensive and 1HKO capabilities offered by the MD. Having it on the field was enough to encourage him to move back, which bought me enough time to fortify my defenses and invite an indirect game that undoubtedly favors Jake over Adder.

Kamuscha

Mech




Posts : 22
Reputation : 12

---

Join date

: 2015-01-31


Location

: Rohirrim



Interesting point about building infantry instead of tanks on the other front. My bias is towards open spaces, and in those cases infantry won't be enough to hold the other sides, but in congested maps like Gnarly shown below it could well work. I wasn't sure that your Md Tank there was the best move though, that front didn't look in crisis, and while he has to retreat a bit, he has since consolidated with an artillery+infantry+tank shield on that front that will be quite hard to deal with.

InvincibleXI

Mech




Posts : 73
Reputation : 12

---

Join date

: 2015-02-07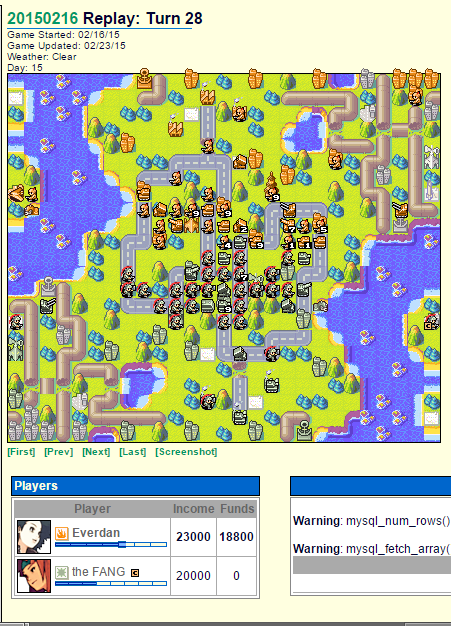 If we're on the subject of blockades...
Here's a shot from a recent game I played with the FANG (or as I like to call him, FANGod).
I'm not sure if it was bad play on my part, but he's constructed a near-impenetrable wall of infantry, supported by indirects and mechs. My tanks and arties can't penetrate anywhere, and his formation is set to roll forward.
Even his funding disadvantage doesn't hurt him too much because his army is so cheap to maintain - basically the rockets are never gonna take damage, so all he needs to do is crank out more of them, while keeping his frontlline well-stocked with mechs, all protected by a screen of infantries.
Maybe somebody else could have held against this, but I really didn't see any way I could have ever broken through that without taking massive losses.

Everdan

AWBW Map Committee




Posts : 138
Reputation : 47

---

Join date

: 2015-01-06



Its not just the shielding.  Even if there was a good breakthrough to hit his rocket with a tank then fang would still. be good because he has loads of mechs to destroy all such invaders and he already has a seemingly big unit number advantage.
The old forum talked a lot about importance of unit numbers. And I think its usually very true.

Allowing fang to build up such mech numbers in centre and have unit numbers advantage is already doomed.  Normally action down flanks requires fast moving units ... And mechs are not fast.. Here the lack of flank , narrow map,  seems to favour mech and sami perhaps.

Also perhaps more importantly fang has taken the centre and so totally controls map.  In our game
http://awbw.amarriner.com/game.php?games_id=225113
Fang gave up his wing advance flirtation realising the centre is more important. And now its looking tricky and stand off ish.  Should be drawn unless someone errs or gets SCOP at good moment .  In fog I might have got the centre.

Edit. Was just thinking with that funding advantage you might hold non a while as you can use indirect to protect cities .... And suddenly noticed that map is very very imbalanced??!!

Blanci

Recon




Posts : 156
Reputation : 35

---

Join date

: 2014-04-17




---
Permissions in this forum:
You
cannot
reply to topics in this forum